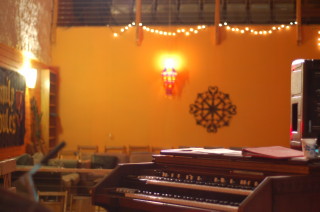 Welcome to the Bingen Theater
The Bingen Theater is a privately owned, non-profit center for the arts located in Bingen, Washington. Its mission is to present high quality musical, artistic, film and cultural offerings to the community. The Bingen Theater is also focused on furthering the arts and arts education through workshops and seminars. The theater building was built in 1949 and originally was called the Canyon Theater. Since 2008 it has been undergoing renovations and is now open on a limited basis (by arrangement) for concerts and events.
Comming Attractions:
CGOA Stages production of Monty Python's SPAMALOT has been relocated to the Bingen Theatre! Come enjoy this hilarious, Tony award-winning musical June 16/17/22/23/24 at 7 pm and June 18/24 at 2 pm. Tickets are $15 adults (18+) and $10 students/children (10-17). Seating is limited, so don't wait! Tickets are available at the door or through gorgeorchestra.org. (While you're at our website, check out next season's incredible lineup of performances!)
Saturday, July 8th at 8 pm. Two of the Northwest's most renowned female singers, Mary Cameron and Julie Amici, will join forces to perform a musical tribute to the great country artists Loretta Lynn and Patsy Cline. The talented Portland area vocalists have been performing their own tribute shows regularly to sold-out houses throughout Oregon and Washington. They are taking their combined show on the road to visit various theaters in the region and this will be their first such performance. Advance tickets at Waucoma Books in Hood River.
Recent Live Performances/Videos from The Bingen Theater:
Guitarmagedon: Austin Heat 2012===
Bingen Rockfest 2012===
===Benefit for Bigfoot
--Hood River Hotshots "St. James Infirmary"
--Buck Fest "Walking in the Shadow of the Blues"
--Buck Fest "Windy and Warm"
--Family Joules "Churchband"
--Strangled Darlings
Big River Recording Studio
Music Lessons
Bingen Theater Contact Information:
Follow on Facebook at BT Facebook

Physical address:

210 Oak Street, Bingen, WA, 98605
Email:

roryjasper@gorge.net
Phone:
541-490-7968